Automotive Industrial Garage Door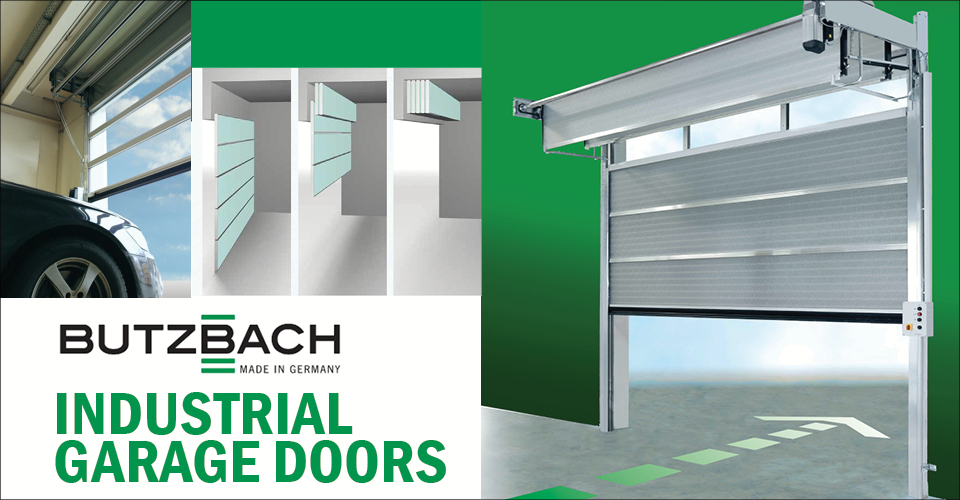 Stacking Door SPACELITE® HT 40
The SPACELITE HT stacking door is especially suitable for use in car workshops, production buildings and car dealerships thanks to its material and the space-saving opening principle. When opening, the door does not come into conflict with other mechanisms such as lifting platforms or lighting installations. Thanks to the low-wear design, this door requires less maintenance work and consequential costs are avoided.
Economically priced basic model For door dimensions up to 5,5 m width by 9,0 m height we offer a cost effective type with basic accessories, which can be extended according to customer's needs and application.
Improved thermal insulation Using the ISO-option, we can realize U-values of 1,8 W/m²K for the entire door. This kit contains transparent insertion foils in the fibreglass panels, thermally insulated panel profiles, double sealing to the wall, additional brush sealings inside the guide track and vision panels with filling made of insulation glass. Hereby the outstanding translucency is hardly affected.
Extraordinary opening principle Once door is open panels are parked behind the lintel in a spacesaving and sheltered manner
Translucent fibreglass Pleasant working conditions inside the building and reduction of illumination costs
---
Stacking Door SPACELITE® HT 40 Vision

with real glass
When a stacking door turns into a curtain wall !
In many buildings industrial doors form an architectural foreign body. The new SPACELITE HT40 Vision however features the visual design of a glazed curtain wall. With real glass and aluminium profiles you apply the same materials, allowing for a sophisticated architectural solution. The function as an industrial door remains, with its beneficial opening technology in the reknown Butzbach quality.
Function and design brought to perfection
Curtain wall design without vertical inter-spacer up to
3.5 m door width (with inter-spacer up to 5.0 m width)
Insulation glass with twin-walled tempered safety glass with excellent thermal insulation values for sustainable 2 building: U =1.1 W/m K g
Advantages compared to acrylic glass: No scratches and cleaning traces, no fogging, condensation or dirt between the panes, no optical deformation of the panes The benefits of the stacking door technology
Minimised required space
No fixation by the ceiling required, easy integration also in glass façades
Reduced cost of operation and maintenance, as wearing parts such as torsion springs, hinges, spiral cables or shock absorbers are NOT used
Combination with door elements with translucent fibre glass possible
---
SPACELITE® HTU-S, Speed and durability

SPACELITE HTU-S is the industrial door which lives up to superior requirements in speed, burglar resistance or
wind resistance, combined with optimized lifetime cost effectiveness.
SPRINT option This exterior high speed door combines perfectly speed and durability, offering an economic operation at low lifetime running cost. For a reliable, disturbance-free and safe application - even with up to 100 000 opening cycles per year.

Protection of the staff, gain of time, disturbance-free traffic and cost efficiency due to fast opening within 4* sec. (opening speed up to 1.5 m/sec).
Natural, cast-shadow free light and energy savings due to door panels made of translucent fibre glass, optionally with transparent panorama glazing.
Lifetime cost efficiency and minimum risk of breakdown due to robust and durable technology without components which are prone to wear and tear, such as torsion springs.